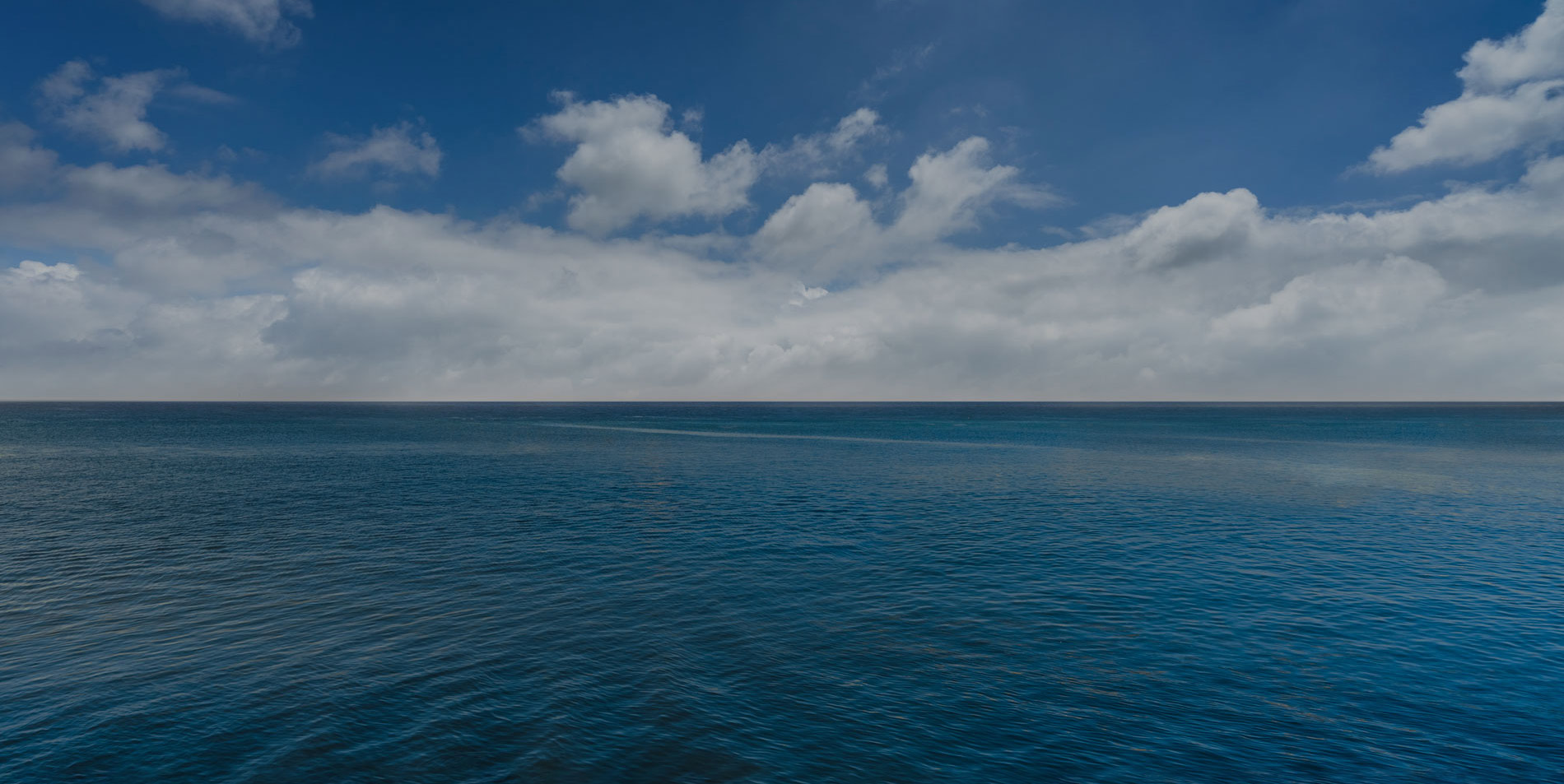 Why Blackstone Alternative Multi‑Strategy Fund
A core alternative solution providing a diversified blend of alternative strategies and managers in a single daily liquid mutual fund.
Reasons to Invest
In pursuing its investment objective of capital appreciation,
Blackstone Alternative Multi-Strategy Fund seeks to deliver:
Diversification
Invests in a variety of alternative strategies in an effort to provide diversified exposures that are less dependent on market movements.

Volatility Mitigation
Seeks to mitigate volatility through exposure to diversifying assets.

Risk-Adjusted Returns
Seeks to deliver steady growth with a focus on maximizing risk-adjusted returns over a full market cycle.
There can be no assurance that the Fund will achieve its goals or avoid losses.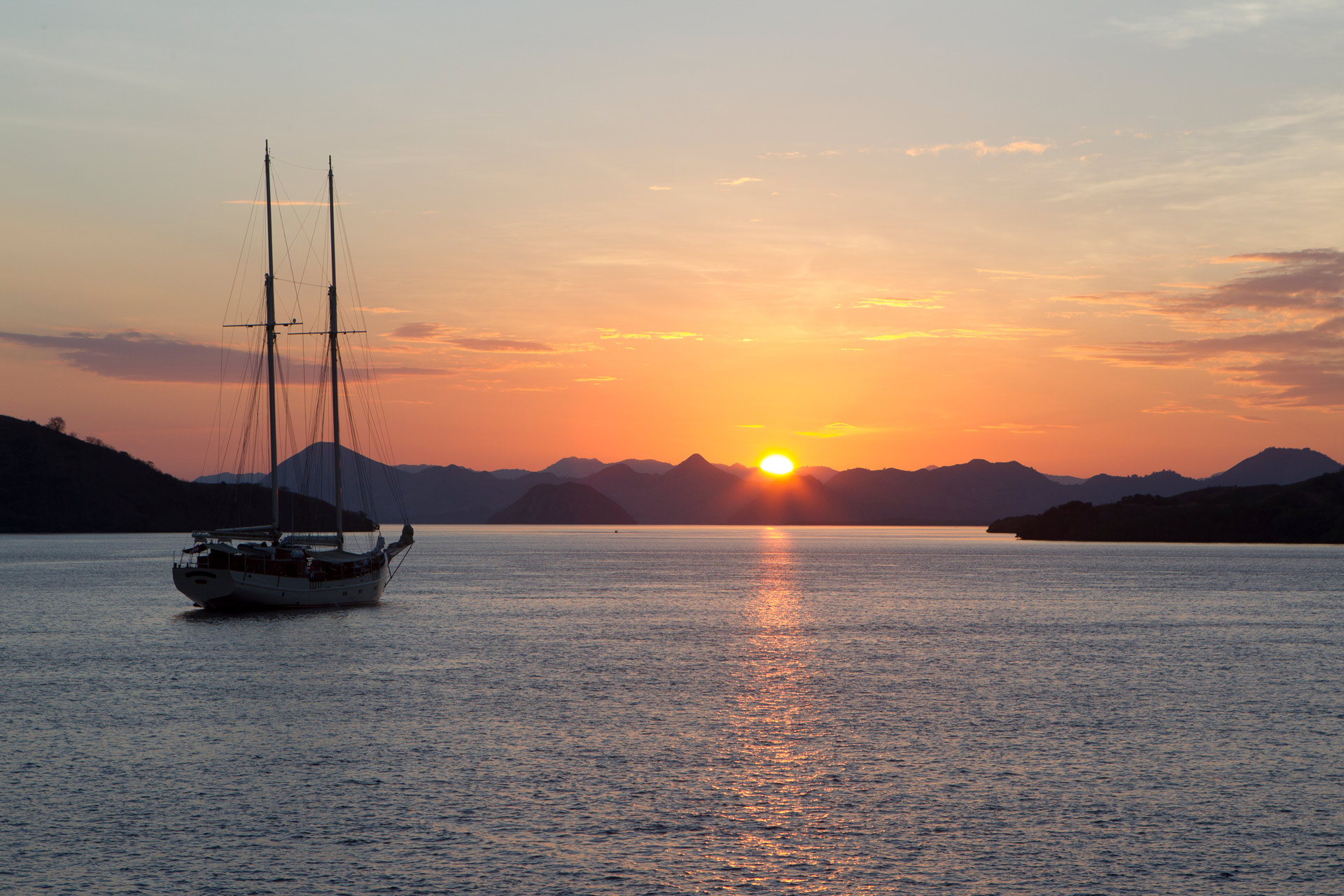 Why Blackstone
Blackstone Alternative Asset Management (BAAM) has partnered
with some of the world's leading investors since 1995.
Position
World's largest discretionary investor in hedge funds1 with $81 billion in AUM2
People
Over 100 investment professionals with experience across all of the key investment strategies
Process
Disciplined investment and operational due diligence; proprietary risk management and technology
Partnership
Deep, differentiated relationships with hedge fund talent
Check the background of this firm on FINRA's BrokerCheck.
1. Source: InvestHedge Billion Dollar Club (as of June 30, 2020) based on AUM.
2. AUM as of September 30, 2021.
Why Multi-Manager
Aims to ease the burden on financial advisors and investors of
evaluating and allocating to multiple single-strategy funds
---
Diversification
Diversification is critical in investing and helps reduce risk in a portfolio. The Fund's multi-manager structure provides built-in diversification for investors who seek to avoid single manager risk.
---
Access to Specialists
Specialists with expertise in specific alternative strategies are combined in one solution. Given the complexity of many of these strategies, it is unlikely that a single manager has expertise across all of them.
---
Dynamic Allocation
Dynamic allocation allows Blackstone to rotate into more attractive sectors, strategies and managers as markets evolve.
Data as of June 1, 2021
Blackstone and its affiliates have financial interests in asset managers. Any allocation by Blackstone to a subsidiary or other affiliate benefits Blackstone Inc. and any redemption or reduction of such allocation would be detrimental to Blackstone Inc., creating potential conflicts of interest in allocation decisions. For a discussion of this and other conflicts, please see the Important Risks section at the end of this page.
BAIA manages a portion of the Fund's assets directly. Such investments presently include allocations to funds managed by third-party asset managers, opportunistic trades and hedging. BAIA allocations are subject to change and BAIA's fees on directly managed assets are not reduced by a payment to a sub‐adviser.
Inactive sub-advisers are not currently managing any Fund assets. Allocations may change at any time without notice.
Why Alternative Strategies
We are focused on the pursuit of alpha, which we believe
requires a differentiated approach to alternative investing

Identifying Managers
with Moats
These managers typically have a defensible edge that thwarts others from directly competing with them. It would be difficult for a competitor to catch up and build a comparable franchise in a short period of time. For example, a large-scale, quantitative hedge fund manager that sources, parses and consumes massive data sets might have a competitive edge.

Focusing on
Non-Economic Actors
Some market participants have political or social motivations that may not be economically rational. This dynamic allows private investors to assume potentially attractive risk that only exists because of non-economic decision-making. One example is the U.S. government mandating that Fannie Mae and Freddie Mac reduce their credit risk to stay solvent with the objective of ensuring their ability to continue issuing mortgages for the greater good of the economy

Sourcing Direct
Investments
Blackstone is one of the world's largest alternative investment firms with a dynamic ecosystem fueled by ideas and deep resources, which we believe is a strong competitive advantage. We partner with hedge fund managers, banks, corporations and even governments to source, underwrite and structure investments. Our size and robust underwriting may allow us to negotiate attractive terms, and we seek to pay fees only for alpha, not beta.
Reflects the opinions and views of BAIA as of the date of the latest reports and is not intended to be a prediction of how any financial markets will perform in the future. Nothing contained herein should be relied upon as a promise or representation as to past or future performance of a fund or any other entity, transaction, or investment.
Key Differentiators
Seeking to capitalize on competitive advantages in scale,
structuring, and strategy rotation to benefit investors

Scale
Brought to you by the world's largest discretionary allocator to hedge funds1
88 professionals with investment research and risk management expertise 2
Dedicated access to strategies with scarce capacity

Structuring
Tailored mandates democratize access to specific skills and exposures
Innovative open-architecture framework accommodates a wide array of strategies
Separate accounts increase portfolio efficiency and transparency

Strategy Rotation
Allocations informed by proprietary insights from the Blackstone ecosystem3
Multi-strategy, multi-manager construct allows dynamic shifts in positioning
Ability to monetize market dislocations
Note: There can be no assurance that the Fund will achieve its goals or avoid losses. Diversification does not ensure a profit or guarantee against loss.
Source InvestHedge Billion Dollar Club, as of December 31, 2020 based on AUM.
As of July 1, 2021.
Subject to Blackstone's information walls and confidentiality and fiduciary obligations.
Asset Allocation
A natural complement to a traditional allocation.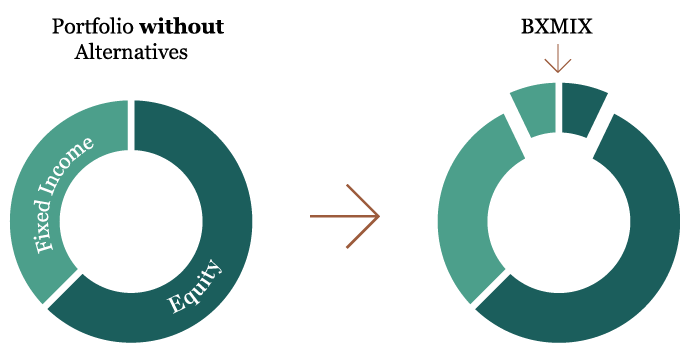 The charts above represent illustrative examples. There can be no assurance that the Fund will achieve its goals or avoid losses.
Allocating to the Blackstone Alternative Multi-Strategy Fund from a combination of existing equity and fixed income sleeves may mitigate overall portfolio volatility while maintaining exposure to growth assets.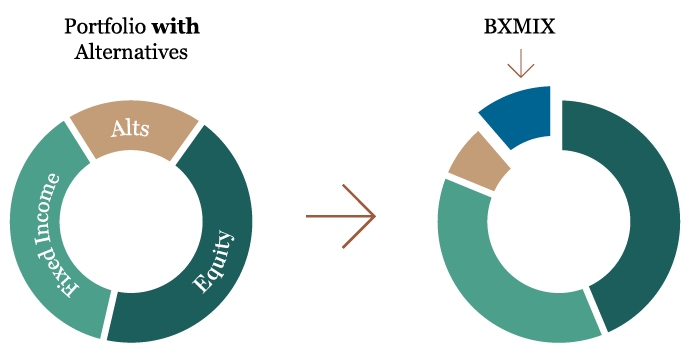 The charts above represent illustrative examples. There can be no assurance that the Fund will achieve its goals or avoid losses.
Blackstone Alternative Multi‑Strategy Fund represents a core allocation that is designed to stand on its own or provide a complement to other alternative allocations.
Portfolio Managers
Blackstone seeks to add value through top-down strategy
selection and bottom-up manager evaluation.
Literature and Multimedia Content
BXMIX Highlights
Fact Card
Quarterly Commentary
BXMIX Sub-Adviser Profiles
BXMIX Update | Q3 2021
Fund Documents and Public Filings
Investor Material
| | |
| --- | --- |
| Summary Prospectus | |
| Prospectus | |
| Statement of Additional Information | |
| Annual Report | |
| Semi-Annual Report | |
| Portfolio Holdings | |
| Annual Proxy Voting Report | |
| SEC Filings | |
| Information Statements | |
| 2021 Year-End Distribution Estimate | |
| 2020 Year-End Distribution | |
| Form 5500 | |
---
Important Risks
This page is not an offer to sell the Fund's securities and is not soliciting an offer to buy the Fund's securities. All investors should consider the investment objectives, risks, charges and expenses of the Fund carefully before investing. The prospectus and summary prospectus contain this and other information about the Fund. All investors are urged to carefully read the prospectus and summary prospectus in their entirety before investing.
Performance data quoted represents past performance and is no guarantee of future results. Investment returns and principal values may fluctuate so that an investor's shares, when redeemed, may be worth more or less than their original cost. Current performance may be lower or higher than the performance data quoted. All returns include dividend and capital gain distributions. The price information contained herein is estimated and unaudited and subject to change.
There can be no assurance the Fund will achieve its objectives or avoid significant losses. You can receive additional information about the Fund by calling 855-890-7725 or by contacting your BAAM representative.
An investment in BXMIX, should be considered a speculative investment that entails substantial risks; you may lose part or all of your investment or your investment may not perform as well as other investments. BXMIX's investments involve special risks including, but not limited to, loss of all or a significant portion of the investment due to leveraging, short-selling, or other speculative practices, lack of liquidity and volatility of returns. The following is a summary description of certain additional principal risks of investing in BXMIX: Allocation Risk – Blackstone's judgment about the attractiveness, value or market trends affecting a particular asset class, investment style, sub-adviser or security may be incorrect and this may have a negative impact upon performance. Derivatives Risk – the use of derivatives involves the risk that their value may not move as expected relative to the value of the relevant underlying assets, rates, or indices. Derivatives can be subject to counterparty credit risk and may entail investment exposure greater than their notional amount. Distressed Securities Risk – investments in securities of business enterprises involved in workouts, liquidations, reorganizations, bankruptcies and similar situations involve a high degree of risk of loss since there is typically substantial uncertainty concerning the outcome of such situations. Event-Driven Trading Risk – involves the risk that the specific event identified may not occur as anticipated and that this may have a negative impact upon the market price of the securities involved. Foreign Investments/ Emerging Markets Risk – involves special risks caused by foreign political, social and economic factors, including exposure to currency fluctuations, less liquidity, less developed and less efficient trading markets, political instability and less developed legal and auditing standards. High Portfolio Turnover Risk – active trading of securities can increase transaction costs (thus lowering performance) and taxable distributions. Model and Technology Risk – involves the risk that model-based strategies, data gathering systems, order execution and trade allocation systems and risk management systems may not be successful on an ongoing basis or could contains errors, omissions, imperfections or malfunctions. Multi-Manager Risk – managers may make investment decisions which conflict with each other and as a result, the Fund could incur transaction costs without accomplishing any net investment result. Leverage Risk – borrowing money or engaging in transactions that create investment leverage can produce volatility and may exaggerate changes in the net asset value of Fund shares. Conflicts of Interest Risk: Blackstone and the Sub-Advisers have conflicts of interest that could interfere with their management of the Fund. These conflicts, which are disclosed in the Fund's Statement of Additional Information, include, without limitation:
Selection of Sub-Advisers. Blackstone compensates the Sub-Advisers out of the management fee it receives from the Fund. This could create an incentive for Blackstone to select Sub-Advisers with lower fee rates.
Financial Interests in Sub-Advisers and Service Providers. Blackstone, the Sub-Advisers, and their affiliates have financial interests in asset managers and financial service providers. Allocating to an affiliate (or hiring such entity as a service provider) benefits Blackstone Inc. or the relevant Sub-Adviser and redemptions from an affiliate (or terminating such entity as a service provider) would be detrimental to Blackstone Inc. or the relevant Sub-Adviser. For example:

Blackstone Strategic Capital Advisors L.L.C. ("BSCA"), an affiliate of BAIA, manages certain funds (the "BSCA Funds") that acquire equity interests in established alternative asset managers (the "Strategic Capital Managers"). One of the Strategic Capital Managers in which the BSCA Funds have a minority interest is Magnetar Capital Partners Inc., a control affiliate of Magnetar Asset Management LLC, a sub-adviser for the Fund. The Fund will not participate in any of the economic arrangements between the BSCA Funds and any Strategic Capital Manager with which the Fund invests.
Blackstone Real Estate Special Situations Advisors L.L.C. ("BRESSA"), an affiliate of BAIA and an indirect wholly-owned subsidiary of Blackstone Inc., serves as a Sub-Advisor Sub-Adviser. BRESSA invests primarily in liquid, commercial and residential real estate-related debt instruments.
GSO / Blackstone Debt Funds Management LLC ("GSO DFM"), an affiliate of BAIA and an indirect wholly‐owned subsidiary of Blackstone Inc., serves as a Sub‐Adviser. GSO DFM invests primarily in below investment grade corporate credit.
Blackstone utilizes technology offered by Arcesium LLC ("Arcesium") to provide certain middle- and back-office services and technology to the Fund. The parent company of a Sub-Adviser owns a controlling, majority interest in Arcesium and BAAM owns a non-controlling, minority interest in Arcesium.
Other Activities of Blackstone or the Sub-Advisers. The activities in which Blackstone, the Sub-Advisers, or their affiliates are involved in on behalf of other accounts may create conflicts of interest or limit the flexibility that the Fund may otherwise have to participate in certain investments. For example, if Blackstone or a Sub-Adviser comes into possession of material non-public information with respect to a company, then Blackstone or the relevant Sub-Adviser generally will be restricted from investing in securities issued by that company. Further, Blackstone generally will be restricted from investing in portfolio companies of its affiliated private equity business.
Allocation of Investment Opportunities. Blackstone and the Sub-Advisers (or their affiliates) manage other accounts and have other clients with investment objectives and strategies that are similar to, or overlap with, the investment objective and strategy of the fund, creating potential conflicts of interest in investment and allocation decisions. These conflicts of interest are exacerbated to the extent that the other clients are proprietary or pay higher fees or performance-based fees.
The foregoing information has not been provided in a fiduciary capacity under ERISA, and it is not intended to be, and should not be considered as, impartial investment advice. If you are an individual retirement investor, contact your financial advisor or other fiduciary unrelated to BAIA about whether any given investment idea, strategy, product or service described herein may be appropriate for your circumstances.
---
References to BAAM refers to Blackstone Alternative Asset Management L.P., the largest (by AUM) investment manager in Blackstone's Hedge Fund Solutions Group. Blackstone Alternative Investment Advisors LLC ("BAIA"), the investment manager for BXMIX, shares employees, facilities and processes with BAAM.
Important Disclosures Regarding Index Comparisons: Indices are provided for illustrative purposes only and have not been selected to represent benchmarks for the Fund, but rather are disclosed to allow for comparison of the Fund's performance to that of well-known and widely recognized indices. The indices may include holdings that are substantially different than investments held by the Fund and do not reflect the strategy of the Fund. Comparisons to indices have limitations because indices have risk profiles, volatility, asset composition and other material characteristics that may differ from the Fund. The indices do not reflect the deduction of fees or expenses and you cannot invest directly into an index. In the case of equity indices, performance of the indices reflects the reinvestment of dividends. Index data is obtained from unaffiliated third parties and is subject to subsequent adjustments. Blackstone makes no assurances as to the accuracy or completeness thereof.
Market indices obtained through Bloomberg, HFR Asset Management, MSCI and Morngingstar, as applicable. Bloomberg Barclays Global Aggregate Bond Index: a flagship measure of global investment grade debt from twenty‐four local currency markets. This multi‐currency benchmark includes treasury, government‐related, corporate and securitized fixed‐rate bonds from both developed and emerging markets issuers. HFRX Global Hedge Fund Index: is designed to be representative of the overall composition of the hedge fund universe. It is comprised of all eligible hedge fund strategies falling within four principal strategies: equity hedge, event driven, macro/CTA, and relative value arbitrage. Strategies are asset weighted based on the distribution of assets in the hedge fund industry. MSCI World TR Index: a market capitalization weighted index designed to provide a broad measure of large and mid‐cap equity performance across 23 developed markets countries. Morningstar Multialternative Category: represents the average performance of mutual funds categorized as "multialternative" funds by Morningstar, Inc. These funds use a combination of alternative strategies such as taking long and short positions in equity and debt, trading futures, or using convertible arbitrage, among others.
Prepared by Blackstone Securities Partners L.P., a member of FINRA and an affiliate of Blackstone Alternative Investment Advisors LLC, the investment adviser of the Fund.